old doodles & drabbles (3)
« previous entry | next entry »
Feb. 25th, 2007 | 04:33 am
music: kaiser chiefs -- love is not a competition (but i'm winning)
posted by: themadteaparty in lindons_end
All the doodles in here have been posted before on my LJ, but seeing as I don't have any new (presentable) art I decided to post these, hope that's okay with everyone =3= *makes feeble excuse*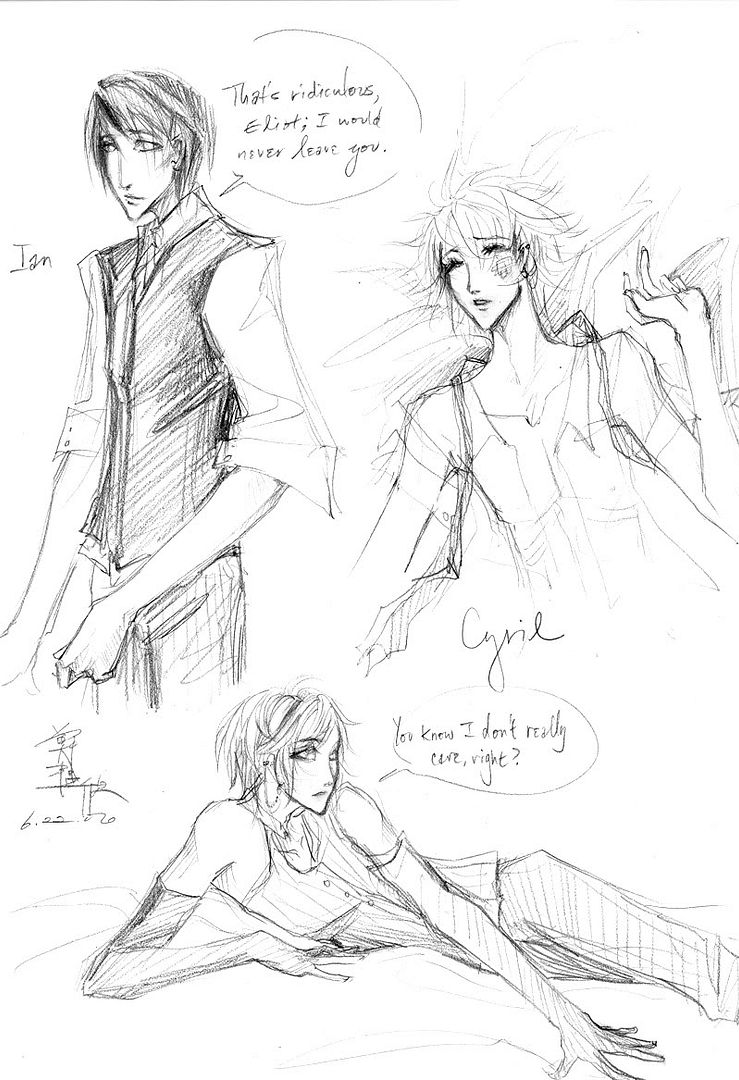 Oldoldoldomfg D:
Alistair, looking all delicate and girly 8D;
Eliot, such a little slut. You break Ian's heart ;3;
And because
jour
and
sinistera
insisted.
Oh god, these are my first attempts at non-academic writing since an ill-fated Evangelion fic (I know....I know D:) about three years ago. *quivering in apprehension* Edited, but probably not enough. Oh god T_T
Mkay, a little background info on the first one--Oliver is the name of Aden's little brother who disappeared years ago (see updated character list). The two of them have had some really horrible history between them (basically, Aden was in love with his little brother, tried to protect him from their alcoholic parents--who liked Oliver better anyway--and was betrayed in the end by his lil' bro D:), which is one of the many reasons why Aden is so fucked up. Incidentally, Eliot bears an uncanny resemblance to Oliver. For the other drabbles, refer back to the character list as necessary in case you have no clue who the character is :0
[Aden/Eliot;
Eliot/Oliver
]
For seven years, he tried to make Eliot love him. At first it was just sticks and stones, but after a little while sometimes he broke his bones.
Hey Eliot, I hear you walked in on your precious Ian jacking off yesterday night, bet you enjoyed that huh? You'd let him fuck you, wouldn't you wouldn't you.
He liked it best when Eliot yelled back at him, his delicate face furious and red and his large eyes topaz-hard and passionate, his fists clenched and quivering a little with fear, because it always meant that Eliot knew to fight his adversaries, even though he would never win against them physically. He always loved to look at the tremulous movements of the birds-bone skeleton beneath the delicately stretched skin and lean muscle, and kiss Eliot's neck beneath a cornerless sky as Eliot lay motionless on a patch of crushed poppies.
And it was always taunting, always breaking, breaking and then breaking and entering and suddenly he didn't know if his heart was even there anymore because each time his hands bruised Eliot's cheek he could feel him flinching beneath him and he would never know what to think.
I'm sorry, Oliver, you smell like blood, your blood my blood, and I'm hurting you like you hurt me, you selfish little fuck; but I didn't mean for you to bleed like that, no I didn't. Just say my name—Aden, Aden—all I want to hear is my name in your voice like I say yours in mine.
Some part of him is glad Eliot always closes his eyes, because he can feel the feathery scrape of wet eyelashes pressed against him in rebellious passivity and, most importantly, he can't see the hate in Eliot's eyes. You can't see hate in someone's eyes if they're closed, and if you can't see it, it isn't there.
Actually I'm not sorry at all.
[Cyril & Eliot;
2 o'clock on a Thursday afternoon
]
Ey. Ey, Eliot. You up? Sorry the bed's a bit hard, but you know it's not that important how soft it is, for the likes of business like mine. Oh, never mind, I didn't say anything. Not anything. I'd feel like a damn bastard if I ever corrupted that pristine mind of yours, that's why. Ha, ha. You're not that innocent you say? You haven't changed a speck since the first time we met, you know. Why don't you spend a night with me—a real night, I mean, none of this sleeping in my bed and us never touching except by accident business—and see how innocent you actually are, you crazy virgin. Ha, ha. I understand, don't worry, I didn't really mean it. Well, I did—okay, okay. Ha, ha. You know, if you hide under the blanket I can still grab your—alright! Alright! No more. What's that you say? Oh. Oh. Hush ye, child, he's calling me, I have to go to him. It sounds pretty urgent, like he'll smack the teeth out of anyone who talks, with those fucking knuckles of his. You don't need to be worried, stop looking at me like that. Eliot. He won't hit me again, I promise. Aw c'mon. Let go of my hand, Eliot. It'll be alright.
[Ian/Eliot;
Goodnight Goodnight
]
"Shh, shh," was all Ian ever used to say whenever he needed to tell Eliot that he had a new one.
The Adventures of Rupert Bascombe, Samuel Blackheart and the Pirates of the St. Augustine, Quentin Blackass and the Gloucestershire Killer
: Eliot read all of them with Ian underneath a creaky staircase illuminated by a wan, waxy light that quivered impishly whenever either of them spoke. Ian used to approach his bedside with a melting candle in one hand, its muted radiance casting upon the peeling walls an ephemeral wash that always revealed shadows dancing silently within. And all he'd have to do was softly shake Eliot awake, and Eliot would just have to see that gentle, mischievous waltz in his eyes to know that the newest one was out.
It must've started when Eliot first entered the orphanage, and a little after Aden, also a recent arrival, locked him in a cupboard. Ian wasn't one of the older boys, and he was mostly quiet and kept to himself, but all the scullery girls in the tavern next door liked him for his courtesy, his long eyelashes, and his aquiline nose, even though it was a little crooked from a fight he got into with Siméon. After what must have been three hours of solitary confinement, Eliot opened his eyes to the golden light from a melting candle and to Ian reaching inside to grab his thin hand.
"Where were you, Eliot? Father Gray was looking for you everywhere, he even sent most of the older boys out into the streets even though it's already dark. We were all terrified, Eliot! You're new, and you could've been whisked away like Roger last month. I haven't seen him since. You could've been like that! Father Gray was about to have a heart attack." Eliot still remembers that first time Ian spoke to him, his voice angry and tense, like a trapeze wire. He still remembers how Ian's bony hand clenched his wrist, shaking. He thought he might grab him by the collar and rattle him, like Aden sometimes did.
"Hiding," Eliot whispered, his voice hoarse and dry from disuse for three hours, "hiding from Aden."
"Liar," Ian hissed, and pulled Eliot out as if he were no more than one of the animal carcasses the cooks occasionally hauled into the orphanage for holiday feasts. As Eliot stumbled to his feet, his feet a tangle of uncertainty and his stomach a riot of terror, Ian held his sputtering candle up to Eliot's face and narrowed his large, virginal eyes, which had always seemed so melancholy and kindly, priestly even. Eliot remembers the strange storm in them and how instead he stared at Ian's nose, at its faintly crooked center. "It was Aden, I know it. That cupboard locks from the outside."
"He...we were playing hide and seek, and I told Miquel to lock me in here," Eliot stammered softly, fearful of revenge should Aden discover what Ian had deduced.
"Look, Eliot, if you don't want me to confront him about it, I won't," Ian sighed, and Eliot felt his respiration slowing substantially as Ian swatted lightly at the cobwebs clinging in his hair.
And he'd figured, that was that. That Ian would just leave him be, pretend nothing had happened between them—and that was exactly what he did for a little while. Yet when Aden pushed Eliot into a puddle of mud on his birthday—a disgusting, rainy day—and, laughing, ran away with his birthday present, that night Ian appeared by his bedside with a finger to his lips and a melting candle in his hand and that exact issue of
Rupert Bascombe
tucked beneath his arm. He didn't say a word until the two of them were safely hidden below the staircase, by the kitchen, and even then, when Eliot tried, protesting, to thank him, Ian simply looked at him under those thick eyelashes of his and asked, "this is the most recent issue, right?" Eliot thought he would never be so happy again.
Sometimes, when he lies in his narrow bed in the attic of Phillip's shop, he shuts his eyes, counts to thirty, and wishes that, when he opens them again, he'll see Ian crouched by his left side, with a finger to his lips and a melting candle in his hand and a penny dreadful tucked beneath his arm.
Omg the ending is so cheesy & lame but I was just too tired to finish it properly T___T
Comments {12}